---
Did you know that planting certain types of crops together encourages growth and vitality? Companion planting, as some like to call it, involves planting beneficial crops next to each other so they can work in conjunction to fight off pests and create an attractive environment for beneficial creatures.
This technique, also referred to as polyculture, better utilizes gardening space, as well as increases productivity. When plants that are favorable to one another are planted together, competition is minimized due to the sharing of resources.
Mutually-beneficial relationships or garden "guilds" produce more yields when they are planted in the same patch of land versus apart, according to Back Yard Abundance. Garden yields help create a healthier and more diverse habitat for birds and insects, as well as increase plant resilience.
They also result in lower maintenance for the gardener because the plant community works together to care for one another.
"Just like with human beings, in plant communities, certain plants support each other while others totally don't get along," explains Peter Kim, a farmer writing for Homesteading.news. "As a farmer or gardener, growing plants with good companions brings peace and smooth growth of your produce."
Below is a list of plants that benefit each other:
Beans
The following plants make good companions when growing beans: beets, cabbage family, carrot, celery, chard, corn, cucumber, radish, potatoes, eggplant, strawberry and peas. Crops that don't get along so well with beans include garlic and onion and shallot, which stunt bean growth.
The power of the elements: Discover Colloidal Silver Mouthwash with quality, natural ingredients like Sangre de Drago sap, black walnut hulls, menthol crystals and more. Zero artificial sweeteners, colors or alcohol. Learn more at the Health Ranger Store and help support this news site.
Carrots
Most farmers plant carrots as their primary crop; however, these additions can help your carrots grow by adding nutrients and water to the soil: tomatoes, beans, onions, peppers, radish, lettuce and chives.
Onions
Crops of the cabbage family, beets, chard, carrots, peppers, lettuce, tomatoes and strawberries serve as the best companions for onions.
Strawberries
When it comes to growing strawberries, the best plants to place alongside them include: thyme, spinach, onions, beans and lettuce. Borage or the starflower, a beautiful flowering plant distinguished by its bright blue flowers works well with strawberries as well because it improves growth and adds flavor, explains farmer Kim.
The organic food market is one of the world's fastest growing industries, but it's not bullet proof. While organic food is an upgrade compared to conventional produce, it is not without chemicals, unfortunately.
The best way to access the cleanest food is to grow it yourself. I know, easier said than done, right? Well, not necessarily, at least not anymore, because the Garden Tower allows even city dwellers to become self-reliant when it comes to their food.
Why growing food vertically is the next breakthrough in urban gardening
The Garden Tower allows you to grow up to 50 food-producing plants in just 4 square-feet of space! This means you can grow food on your balcony, terrace and patio, or whatever outdoor space you might have at your home.
"Vertical Gardening is the future of high-density local food production! It stacks living plants vertically instead of spreading them out over a yard, allowing you to produce MORE food in LESS space… and without tilling the soil or weeding a garden plot," states the product's website.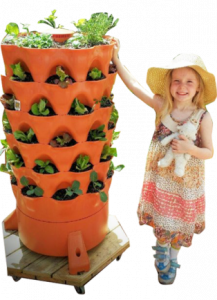 Some of the benefits of growing your own food include that it's free from taxation, reduces fossil fuel consumption, is more nutritious, reduces grocery bills, and allows growers to avoid the chemical overload placed on the majority of crops.
Just wait, it gets even better. The Garden Tower is made of 100 percent recyclable food-grade HDPE plastic, meaning it's completely free of BPA, PVC, or any other toxic additives derived from plastic.
You can also feed it food scraps from your kitchen as the Garden Tower morphs it into high-density nutrition compost. So, no need to spend money on pricey fertilizers.
Sources: